How to Safely Get Pieces of Jewelry Out of the Drain and When You Should Call a Plumber
If you're like most people, you've spent at least $5,500 on an engagement ring. Which homeowner's insurance usually doesn't cover. Nobody wants to see that much money go down the drain — literally. Losing jewelry down the drain is very common, but you don't have to panic. Yes, you can get your valuable pieces of jewelry back, whether with professional help or on your own. If you're scrambling to find out how to retrieve your jewelry safely — we'll give you our professional tips on how to find your jewelry and get it back safely, as well as how to know when to call the experts.  
How Do You Safely Remove Jewelry Out of a Drain?
If you've lost your jewelry down the drain, safety should be your first concern. Trying to retrieve your jewelry the wrong way could result in: 
Pushing your jewelry further down the drain

 

Creating a drain blockage 

 

Damaging your pipes 
Thankfully, most jewelry gets caught before it goes too far down the drain. You will usually find your lost jewelry in the drain (especially if you already have a drain cover in place). Otherwise, it's probably lodged in the p-trap.  
What is the P-Trap?
The p-trap is the curved, U-shaped pipe underneath your kitchen sink. It catches the debris that falls into your drain before it reaches your sewer system. In fact, most house drains (such as showers) have p-traps, but they are hidden almost everywhere except for underneath your kitchen sink. If you don't see your jewelry in the drain, you're likely to find it in the p-trap. Thankfully, retrieving jewelry from the p-trap is a straightforward, safe process.  
How To Remove Jewelry From Your P-Trap
With a little bit of plumbing knowledge and elbow grease, you can safely remove jewelry from the p-trap yourself. Check to see if you have the right tools, including: 
A bucket

 

Several rags

 

Adjustable wrench

 

Pliers



If you have these basic tools, you're ready to get to work. Here's how it's done: 
Turn off the tap or shower to prevent the jewelry from getting pushed further downstream

 

Remove items from the area under the sink

 

Place a bucket under the p-trap to catch the water that will come out

 

Loosen the slip nuts (nuts on either side of the trap) 

 

Remove the p-trap slowly

 

Dump the pipe's contents into the bucket

 

Replace the pipe and re-tighten the nuts

 
When removing a p-trap, you don't have to turn off the water to your sink. Some water will gush out of the pipe, but only the water that the curved pipe has trapped. This makes emptying the p-trap an easy fix.  
How Do You Remove Jewelry out of a Garbage Disposal?
Your kitchen sink may have a power garbage disposal connected to the drain. If so, that's the first place you should look for your jewelry. However, you need to be very careful. A garbage disposal grinds up food particles. It can do the same to your fingers. The first step is to cut the power to your garbage disposal before you attempt to remove jewelry from it. If it was on when your jewelry fell into it, the disposal blades might be jammed on your jewelry. This makes it even more dangerous.  
Even when the power is off, don't stick your fingers into the garbage disposal — you could cut your hand by brushing it against the sharp blades inside. Instead, use thin tongs, pliers, or even two wooden spoons to try and retrieve your jewelry from inside the machine. It helps to shine a bright flashlight into the garbage disposal to get a better view. If you knock the jewelry out of the garbage disposal, just remove the p-trap by following the steps above.  
How Do You Remove Jewelry From a Bathtub or Shower Drain?
When you lose your jewelry in the bath or shower, there's good news: it's probably caught in the drain cover. You should be able to see it and retrieve it with a pair of tweezers or pliers. 
If it's not there, you'll have to remove the drain plug and cover before you go further. Then, use a snake or hooked tool to fish for the jewelry. 
Bathtub drains have p-traps too. Since the p-traps are located underneath your floor, you won't be able to empty them. However, you may still be able to get your jewelry out of them by fishing with a snake or piece of hooked wire. If you can't snag your ring from a shower drain with these methods, you'll have to turn to a professional. 
What Tools are Needed to Retrieve Jewelry From a Drain?
You don't need fancy equipment to get your jewelry back. The most important piece of equipment is a retrieving tool: a long, flexible tool with a hook on the end to fish for your jewelry. This is also called a snake. A professional plumbing snake is the best tool for the job. However, if you don't have one, you can make a DIY version by unbending a wire clothes hanger. Then, curve one end into a hook. You can use a snake to fish down any drain. If you also remove your p-trap, you'll need the tools mentioned above. Don't forget to grab a mop and bucket in case a lot of water comes out of the pipe.  
What Are the Risks of Attempting to Remove Jewelry Yourself?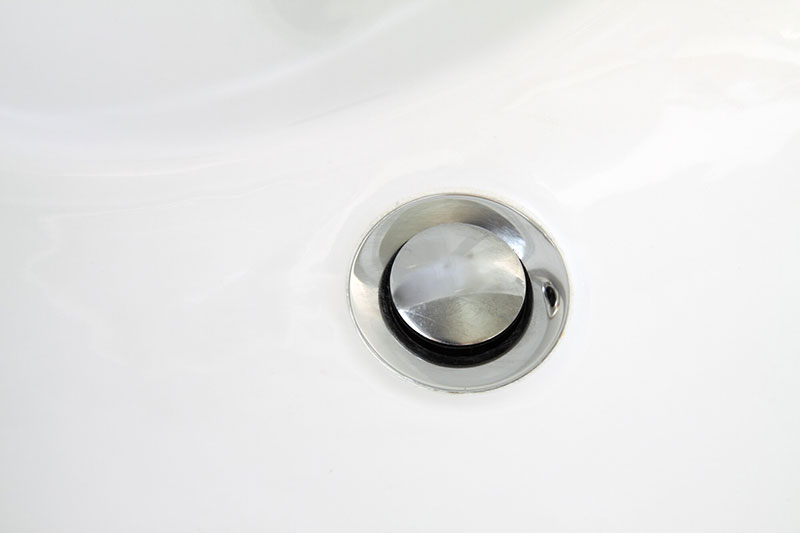 When you try to remove jewelry yourself, there are three main risks: 
Damaging your plumbing system 

 

Physical harm to yourself

 

Losing your jewelry for good



If you try to take apart plumbing system components that you aren't familiar with, you could end up with a bigger mess on your hands. To avoid damaging your plumbing system (or creating a big mess), don't remove any plumbing system pieces that you don't understand. It's better to call a plumber to retrieve your jewelry than cause an even more expensive plumbing problem.   
When Should You Call a Professional for Jewelry Removal?
Jewelry removal is often an easy DIY plumbing project, even for beginners. At the same time, it's not always safe or worthwhile to do it on your own. How can you tell the difference between beginner-friendly jewelry retrieval and a job for the pros? You can tell that you need professional plumbing help if: 
You don't feel comfortable doing plumbing work on your own

 

You don't own the necessary tools 

 

You've tried the instructions above and you still can't locate your jewelry



If you can't find your jewelry in the p-trap, it may have gotten washed further downstream. We don't recommend taking apart more plumbing on your own, so call a professional. 
Should You Turn Off the Water When Trying to Retrieve Jewelry?
Simple fixes like using a snake don't require you to turn off your water main. Just be careful not to turn the tap on, since the flow of water could wash your jewelry out of reach. Turning off your water is necessary for bigger plumbing projects, like removing a section of pipe or dismantling your toilet.  
How Should You Retrieve Jewelry That Has Flushed Down the Toilet?
Retrieving jewelry that has flushed down the toilet is more complicated. The toilet's plumbing system uses suction to pull debris out of the p-trap, which means that it's less likely for your jewelry to settle there.  If you haven't flushed the toilet, though, it may not be hard to retrieve. Use a snake to grab the jewelry out of the pipe, if possible. Even if you have flushed, there's a chance your jewelry may still be there, so try grabbing for it with a snake. 
Can't grab it with a snake? You'll probably want to call a professional. Toilets are more complicated to take apart than sink p-traps. Removing it yourself could cause bigger problems if you aren't familiar with how they work.  
Don't Let Your Pieces of Jewelry Go Down the Drain
Seeing a sparkling piece of jewelry fall down the drain happens to everyone. Thankfully, that doesn't have to be the last time you see your beloved wedding band or heirloom earring.  
With these tips, you'll be on your way to retrieving your pieces of jewelry on your own. Or maybe you'll decide that you need some professional help to get your jewelry back. 
From plumbing jewelry removal to regular maintenance, you deserve trusted, professional help. Atomic Plumbers have served over 25,000 satisfied customers — why not be one of them? Contact us for emergency or routine services today.