Pipe Freezing: The Ultimate Guide to Frozen Pipes
You get up to take a shower, turn on the tap … boom, no water! Why? There is a good chance you are dealing with an issue that many homeowners in cold areas fear: pipe freezing issues!
Did you know that freezing pipes that burst are one of the most common causes of property damage during colder temperatures? These damages can cost thousands of dollars in water damage. It can cause upwards of $5000 in damage to your home! The best way to avoid frozen pipes is to prevent them from freezing in the first place. There are a few factors that every homeowner should be aware of to accomplish this. Unfortunately, when your pipes have frozen, being able to detect the problem and effectively deal with it is a different story.
What Is the Common Cause of Pipe Freezing?
Because frozen pipes are a common problem, it's a good idea to be aware of some of the more frequent causes so you can begin protecting yourself right away.
The Temperature
Even though water freezes at 32°F, the water within your pipes is more shielded than the water outside. Temperatures must be well below freezing for water to freeze in a pipe. Most frozen pipe incidents occur when the outside temperature falls to 20°F or lower. When water freezes, it expands. When it's inside a pipe, however, its expansion is restricted to the size of the pipe. Eventually, because it cannot go anymore, something gives when it wants to carry on expanding. This continuous expansion usually ends in a cracked or burst pipe. Therefore, it goes without saying that cold weather weakens and exposes your pipes to the risk of cracking, splitting, or bursting. Pipes exposed to the prolonged cold are more prone to freeze and rupture than those that are not.
Location of the Pipes
When your home's pipes are in unheated interior spaces, they are more likely to freeze. A house will often have:
Pipes running through the attic
Pipes running in the crawl space
Pipes running along the basement
These pipes frequently do not have access to your home's heating system to keep them warm. Therefore, pipes burst most frequently in these unheated areas of your home. Pipes placed on exterior walls are right in the thick of the cold weather. So, they will not have sufficient insulation and are more likely to crack and burst with the contraction and expansion due to the bitter cold they are exposed to.
Not Enough Insulation
Insulation keeps you warm in the wintertime. As a result, if you don't have adequate insulation in your walls, ceiling, or crawl space, your home's pipes are more susceptible to freezing.
Wind Chill Factor
The wind chill factor in drafty parts of the home can contribute significantly to your home's pipes freezing. For example, your pipes are more likely to freeze if you have a drafty attic or crawl space.
Drainage Problems
When water is unable to drain away from your home quickly enough, it can start freezing and build up inside your home's walls. Once this happens, it has nowhere else to go but directly through any nearby pipes when that happens the water turns into ice and puts pipes in danger of damage.
Power Failures
Power failures combined with winter weather can be disastrous. For example, if your home is heated by electricity, the temperature inside can quickly drop below freezing with a power outage. As a result, wherever there is water it freezes. Water expands as it freezes into ice. As a result of this expansion, pressure builds up in your home's pipes. This pressure causes the pipes to burst and as a result, can cause extensive damage to your home.
How Cold Does It Have to Get For Your Pipes to Freeze?
The information varies on the minimum temperature required for pipes to freeze. However, water freezes at 32 ° F. So, feasibly, your pipes may freeze at that temperature and any lower temperature. However, for your pipes to freeze overnight, the air temperature will have to drop by at least 20 degrees. On the other hand, keep in mind that water expands as it ices up. Depending on the state of your home's pipes, damage to them can happen even if the water within is not completely frozen.
What Can You Do To Prevent Frozen Pipes?
Winter is about to set in. Now is the time to take quick preventive measures for freezing pipes. First, before the beginning of the actual cold weather, prevent your home's pipes from freezing over by:
Draining Exterior Hose Connectors: Disconnect, drain, and put hoses used outside in storage. Close inner valves connecting outside hose bibs. Open exterior hose connectors to allow water to drain. Leave any external valves open so that any water left in the pipes has room to expand without bursting or cracking the pipes.
Adding Insulation: Add insulation to crawl spaces, basements, and attics. Insulation will keep temperatures slightly higher in these areas. Higher temperatures mean less likelihood of water freezing.
Insulating Water Pipes: Look all-around your home for any places where water supply pipes are positioned in unheated areas. For example, check in the laundry, garage, and under bathroom and kitchen cupboards. Both cold and hot water pipes in these areas should be thoroughly insulated with sleeve-type pipe insulation to help keep temperatures above 32 ℉ and prevent freezing.
It will help your house's pipes if you ensure that all unheated rooms are adequately insulated and keep any airy gaps closed to prevent blustery breezes.
Draining and Disconnecting Supply Lines: All external water connections, the water meter to swimming pools, and sprinklers should be entirely emptied in the autumn so that there is no liquid left inside that can expand into ice in freezing conditions.  Also, disconnect and remove hoses to drains and close valves to outside hose bibs. It should go without saying never to pour antifreeze into outside water supply pipes! Despite its name, this solution will not prevent pipes from freezing. But instead, it's dangerous to children, pets, and the environment.
Run a Trickle of Water: If not for the whole of the winter, you may want to think about opening a few taps in the home's coldest areas. Open the water taps just slightly to let a trickle of water out. The flow of water helps keep pipes from freezing.
Maintain a Constant Temperature: Maintain a constant temperature on the thermostat throughout the day and at night. It may hit your pocked with the heating bill, but in the long run, you will avoid expensive repairs to burst or split pipes.
Can You Thaw Out Pipes Without Professional Help?
There is no one way to unfreeze pipes. Everyone has a different opinion and technique, and if it works for you use it. However, there are some things to consider. Before you begin thawing pipes, turning off the water supply to the portion of plumbing you're working on is a good idea. Warm the pipe using an electric portable space heater, a heating pad, or a hairdryer to thaw the frozen sections of the pipe until flowing water is restored. Warm the side of the plumbing nearest to the closest outlet connection. Never ever use an open flame device like a gas heater or blowtorch. These thawing methods work on any plumbing that is easily accessible.
Can Frozen Pipes Lead to Damage?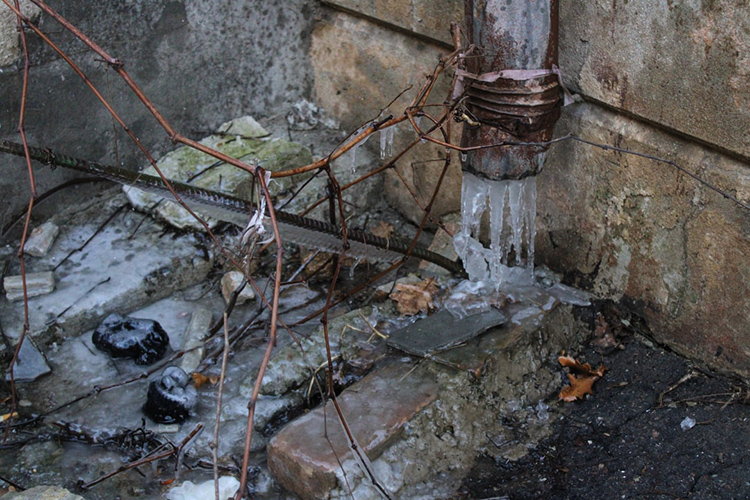 Frozen water pipes and the devastation they can inflict are a nightmare for a huge number of people each year. That's particularly so when you experience below-freezing conditions for an extended amount of time. When it comes time for the ice to melt with the changing temperatures, the pipes can start to dilate or contract in size owing to the changes in the volume of the icing or defrosting water in the pipes. As a result, this contraction and expansion result in:
Pipe cracking
Water leakage
Total pipe bursts
The frozen water works like a cork stopper. This contraction and expansion produce tremendous pressure inside the pipe section. That pressure can induce:
A minor leakage at a connecter joint when it forms a stopper
A horizontal crack in the pipe
A break along the length of a pipe
These cracks and splits can cause leakage and form an ice cork which stops water from flowing and therefore causes a pressure build-up. However, when that stopper thaws, water flows out, unleashing an unforeseen water gush inside your home.
Which Pipes Are the Most Susceptible to Becoming Frozen?
This is a two-fold question. First is where the pipes are located, and secondly, the material the pipes are made of. The location of the piping is a big influence on whether pipes freeze or not. Typical high-risk pipes that can get frozen are:
Exterior pipes where the warmth of the home does not keep them thawed
Pipes within exterior walls where they are exposed to icy conditions
Exposed pipes that run through cold or uninsulated areas such as crawl spaces, attics, or basements
Pipes running on the outer side of the home
Pipes that could also run through a non-occupied and unheated area of the building
Wherever a pipe is affected by weather conditions
Pipes hidden beneath sinks particularly sinks adjacent to exterior walls
You may not realize if you have frozen, cracked, split, or broken pipes if you visibly cannot see them. But you will soon know when they warm up, and the water flows into your home.
Materials of Pipes Used
Pipes are made of many different materials. However, the most used piping used in homes are:
Copper Piping
PEX plastic piping
CPVC or chlorinated polyvinyl chloride PVC piping
Each of these piping materials comes with its own set of pros and cons. Let's look at them more closely.
Copper Piping
Copper is typically the material used for plumbing. Copper plumbing pipes are most frequently used for:
Water supply piping into homes and businesses
Hot water heating systems supplying buildings
Waste or sewage carrying piping
Copper pipes have been and still are the industry standard for supply pipes today. In addition, copper piping is relatively easy to work with. One major drawback is that it loses heat rapidly. Also, the pipes are thin and are not as pliable as the other substances. These come together to make copper piping the most susceptible to breaking, splitting, or bursting in freezing weather.
A copper pipe is thin and doesn't stretch enough to keep up with the swelling frozen water. This continuous expansion imposes immense pressure on the pipe itself and can damage the pipe. Eventually, it has to give, and the pipe splits or bursts. This causes water damage from overflowing water.
CPVC Piping
CPVC pipe is a form of plastic pipe. It is a less stiffer pipe and thicker than copper piping. However, it retains heat better, making it a better option for piping carrying water. As mentioned before, this type of plastic pipe is less stiff than copper. As a result, CPVC will expand slightly, therefore lessening the pressure on its walls and protecting it from bursting as rapidly as copper. However, CPVC is brittle. Because of that, it will crack and break if it sustains freezing conditions for too long. So, whilst it's a better solution than copper, it nonetheless is subject to freezing conditions.
PEX  Piping
PEX is a type of plastic cross-linked polyethylene pipework. It is commonly used in water supply piping systems. The product has several advantages compared to copper, galvanized steel, and PVC plumbing pipes. PEX is pliable and easier to use for installations than the typical rigid pipe.  It also offers exceptional heat resistance and long-term endurance. PEX has the best probability of surviving low temperatures since it is so flexible. PEX can expand sufficiently to handle the growing volume of the water freezing inside it. PEX can still break with sufficient pressure and swelling caused by frozen water. However, the fittings or connections on each end of the PEX pipe are typically the first to blow off. As such, it is critical to consider the components used to join PEX to other sections of the plumbing system.
There are a couple of things that can be done to make PEX or any of the above materials more resistant to splitting or bursting from water freezing inside of them. As discussed before, by wrapping insulation around the pipes, particularly in colder places. Also, by shutting off the water to outdoor taps as winter approaches.
How Do You Thaw Frozen Pipes Within a Wall?
First thing is first, before attempting to defrost frozen pipes inside a wall, locate and turn off your home's main water valve. Knowing what to do when your pipes freeze doesn't always make it easy. Most home plumbing systems stretch through spaces that are hard to access. You can't always reach a frozen pipe by opening a wall or working under the sink. If you have pipes that have frozen inside enclosed areas such as crawl spaces, it is recommended to call in the plumbing professionals. They are after all better equipped and have more experience in dealing with these issues.
To help thaw frozen pipes increase the heating system's temperature and open cupboards and closets close to the frozen pipes. Place a fan heater directly facing the wall with the frozen pipe. If necessary, expose the pipes and use the methods mentioned above. However, if you are unable to locate the frozen pipe and since these types of frozen wall pipes are more difficult to deal with, it's recommended that you call in the experts!
How Do You Thaw Exposed Frozen Pipes?
Exposed pipes in the basement and supply lines under sinks can usually be thawed in a few hours. If you're thawing pipes under a sink, be sure to open the faucet so that melting water can escape. Unfreeze pipes in the basement and under sinks using the same tips outlined in the previous paragraphs. Use a portable space heater, a heating pad, or a hairdryer to thaw the frozen sections of the pipe until flowing water is restored. Warm the side of the plumbing area nearest to the closest outlet. Never ever use an open flame device like a gas heater or blowtorch.
When you're deciding on how to thaw a frozen outdoor faucet or exterior pipes, stay safe. Heat tape and hair dryers get the job done but be very careful using electrical equipment outdoors when it's wet. If you're not comfortable with your options, wrap the pipe or open-hose bib with towels. Then, heat up a kettle of water and slowly pour hot water over the towel wraps. It may take several tries, but this trick is safer than working with electricity while you're standing in the snow.
Prevention Is Better Than the Damage a Burst Pipe Can Cause!
Having to deal with pipe freezing issues can be a frustrating and challenging experience!
Nobody likes having to deal with pipes that have frozen. However, you can avoid this expensive disaster by following the advice provided above and introducing just a few preventive measures.
If you're cautious and know when to call in the professionals, you and your home's frozen pipes will be able to make it through yet another winter together.
If you want to prevent pipes from freezing, then, why not contact us?
You can be confident that you will always receive excellent service from our company. We guarantee your satisfaction with our work, whether it's a cleaning, or emergency repair. Atomic does the job correctly the first time.