Every homeowner—including the keen DIY-ers among you—will need to hire a professional to handle a plumbing repair, installation, or maintenance at some point. For the 44 percent of US households that regularly have to deal with a clogged drain, sink, or toilet, an overflow might be the problem. Others might be facing a plumbing emergency such as a burst pipe and the resulting water damage. Or, for those of you who want to avoid an emergency further down the line, there's no better time than the present to see to that essential plumbing maintenance you've been putting off.
Regardless of the plumbing services you need, the question remains the same. How do I find a quality plumber near me? Having an experienced and reputable plumber ready to call in an emergency often means doing your research beforehand. Here are our top tips for finding the best plumber in your local area.
Consider What Plumbing Services You Need
Before anything else, you must consider what kind of plumber you need. Some plumbing professionals offer a complete line of plumbing services—from water supply installations to emergency repairs. Others may only specialize in one element of plumbing work. For example, while they might be experts at handling service calls like drain cleaning or toilet unclogging, they may not have a license to deal with water heaters.
In most states, plumbers have different designations based on their experience. Make sure to look for the right type of plumber for your project. Searching by specialty can help narrow down your options and reveal those best equipped to deal with the plumbing issue at hand. That said, finding a skilled team that can take on a variety of plumbing projects can save you a lot of time and hassle both now and in the future.
How Do I Find a Quality Plumber Near Me?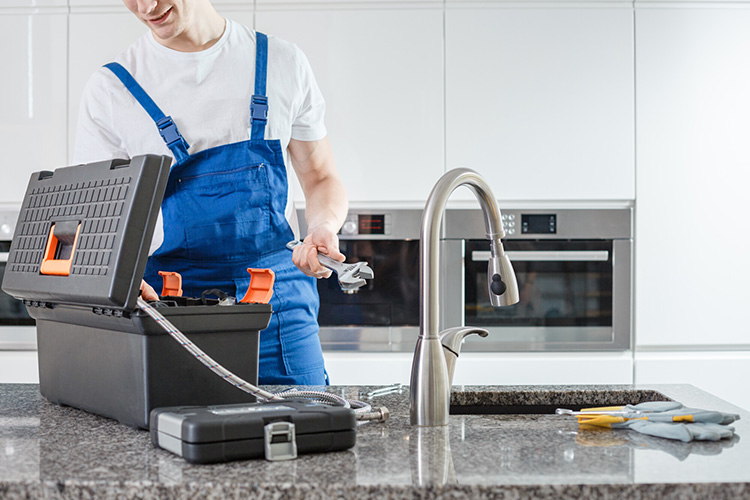 Knowing the plumbing services, you need is an important first step. But, whether your kitchen sink has sprung a leak or you're looking to install new pipes, a quick internet search will likely reveal no end of plumbing services in your area. To make sure the best is at the top of your list:
Start the Search Now
Make the process easier by looking for a plumber before you have a plumbing emergency on your hands. Once you have a few potential options, connect with them for routine maintenance or a non-emergency plumbing repair. If you're satisfied with the work completed, you'll already know who to call if an emergency does strike.
Ask Friends and Family
Good plumbing companies can also be great at digital marketing. But a company at the top spot-on Google might not be the best plumber in town. This is where old-fashioned word-of-mouth can pay off. Personal referrals from friends, family, neighbors, and work colleagues are worth far more than search engine rankings. Even if those in your immediate social circle have no experience with local plumbers, they're sure to know someone who has. This can help you steer clear of unreliable companies or—even better—find a good one!
Seek Online Recommendations
If you don't know anyone who can recommend a good local plumber, asking on your neighborhood Facebook page or NextDoor group is another good option. You might not be able to trust these recommendations as much as those from friends and family, but it will at least offer some potential names to get you started.
Ask a Trusted Professional
A positive experience with a local electrical contractor or HVAC technician can be a good place to start for a recommendation—especially if you don't yet have any other contacts in the area. Reputable professionals are always happy to share references and you might even get an introductory discount.
Check With Local Organizations
It's always worth checking with local business organizations such as the Better Business Bureau (BBB). These organizations hold their members to high standards so checking to see if their listings include a company name you've found is a solid vote of confidence.
What to Look for in a Quality Plumber
Recommendations are always helpful for refining your search. To make sure you choose the best plumber for the job, make sure that they have the following:
Licensed and Insured
A professional plumber who is serious about the longevity of their business will make sure to operate within the law by being fully licensed and insured. These protect both you as the homeowner and the plumber's business so it's vital to make sure that everything is in order before any plumbing work begins. Your state website will confirm the licensing status of the plumbing contractor you're considering. To verify insurance cover, you can ask for certificates and call the agency to check that the policies are still in force.
Full Warranty
Skilled tradespeople are happy to stand behind their work. Your plumber should be familiar with the manufacturer's warranty on any parts they install and will back this up with a warranty on their work. This warranty varies by project but assures you of a job completed to the highest standard.
Years of Experience
A plumber's website will often state how many years they've been in the plumbing industry. Experience is necessary to perfect a skill or trade, but more experience also means that they will have overcome more diverse plumbing issues and obstacles over the years. A reputable, experienced plumber is also far less likely to let you down mid-way through a plumbing project.
Excellent References
A long list of positive testimonials is always a good sign of an excellent plumber. It's also worth asking for references from recent projects to back these up with the first-hand reports of previous clients. While the plumber will likely only give you the names of satisfied customers, this is your chance to ask more about their price and work process, as well as if the customer would hire them again. You can then compare these glowing reports with online reviews to get a better idea of what to expect.
Clear Communication
Communication is key to a successful project. A good plumber should ask and answer all the necessary questions to ensure that everyone is fully informed. They should also be clear about the timeline, budget, and any possible issues that could arise. Every project has the potential for surprises but knowing in advance that you might be without running toilets or hot water will make it easier for you to prepare.
Conscientious Work Ethic
Contracting a plumber means putting your home in their hands. The way they speak to you and whether they respect your property when coming to give an estimate can be very insightful. If they pay attention to small details such as removing their shoes or parking in the correct spot, they're sure to put the same care and consideration into any plumbing work they do for you.
The same goes for plumbers who are happy to advise you which materials that shouldn't go down the sink or how to improve the water pressure in your shower. Sharing their wisdom with you shows that they care more about your plumbing than they do about securing more business for the future.
Finding the Right Plumber for the Job
If you're lucky you might have a few promising contenders to take on your plumbing work. Now it's up to you to prepare and decide what's important to you. One of the best ways to finalize your decision is by asking all your possible options the same set of questions and comparing their answers.
You might have extra questions depending on the work you need but here are some to get you started:
Have you done this type of project before?
Does this require a permit?
Who will be doing the work?
How long will this project take?
What is the estimated total cost?
Does the cost include both parts and labor?
Is the rate hourly or fixed?
Can I get a quote in writing?
Will you notify me of any changes to the cost or timeline beforehand?
Although these questions may not all apply to you, asking them can reveal a lot about a company. For example, a good plumber will want to inspect your plumbing issue in person before providing a final quote.
Connect With a Quality Plumber Today
It can be tempting to type "plumber near me" into Google and go with the first result that comes up. This tactic may not be the worst idea but nor is it likely to help you find the right plumber for your project. Instead, it's far better to ask around, consider the key qualities you're looking for, and confirm your choice of plumber by getting the answers you want to the questions that matter.
For those of you lucky enough to live in Virginia Beach, Norfolk, or Chesapeake, VA, Atomic Plumbing and Drain Cleaning is sure to be top of your list on every count. To find out how we can help you, contact us today!